Afghanistan MPs vote to sack minister Mojtaba Patang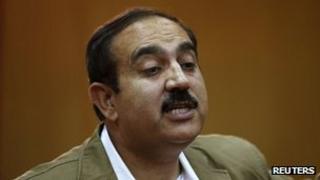 The Afghan parliament has voted to replace Interior Minister Mujtaba Patang, accusing him of failing to tackle insecurity.
MPs voted by 136-60 to ask President Hamid Karzai to find a replacement.
However, President Karzai has said Mr Patang will stay while the Supreme Court considers whether parliament had legal grounds for dismissing him.
Mr Patang said the vote was the result of a plot against him by those with ties to organised crime.
His predecessor Bismillah Khan was voted out by MPs last year, who also accused him of not doing enough to improve security. Mr Patang, then deputy interior minister, was promoted to replace him.
One of the criticisms levelled at Mr Patang by MPs was that he has been unable to protect the vital Kandahar-to-Kabul road from attacks by Taliban militants.
Mr Patang rejected the accusations that he had failed to tackle insecurity, likening the ministry he had inherited to "an old car with a broken engine".
"In eight months I have created a system. I have made 122 policies and strategies for the interior ministry," he told parliament, the AFP news agency reports.
The interior ministry is responsible for Afghanistan's 157,000-strong police force.
A BBC investigation into the practices of Afghan police in part of Helmand province earlier this year uncovered indications of corruption, kidnapping, drug abuse, child abuse and even murder.
Last month Nato handed over national security to Afghan-led forces for the first time since the Taliban were ousted in 2001.
All Nato combat forces are due to have left the country by the end of 2014, but Mr Karzai said in a recent speech that the US could keep as many as nine bases in the country after that date.