Solomon Islands marks Ramsi peacekeeping mission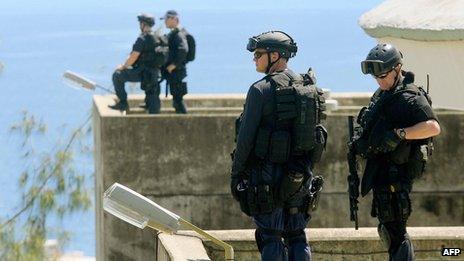 Pacific leaders are in the Solomon Islands to mark the 10th anniversary of the Ramsi peacekeeping mission.
Many countries in the region, led by Australia, sent peacekeepers to the Solomons in 2003 to combat ethnic violence and lawlessness.
Troops are being withdrawn as the military element of the mission ends, but some policing units will stay.
At least 200 people were killed in the 1998-2003 unrest and tens of thousands lost their homes.
Solomon Islands Prime Minister Gordon Darcy Lilo said at the ceremony marking the anniversary that the "real test" of the country was still to come.
"I still remember vividly that there was a time in our lives when there was no hope," he said.
"The real test is what we do when Ramsi [Regional Assistance Mission to the Solomon Islands] leaves, whether we can hold together as a nation, or we crumble once again into individual microcosms that cannot work together."
New Zealand Prime Minister John Key and and Australian Foreign Minister Bob Carr were amongst the leaders visiting the Solomon Islands to mark the occasion.
"This transition is a clear indication of the progress made," Mr Key said.
Surveys have shown an overwhelming level of support for the regional peacekeeping mission among Solomon Islanders, the BBC's Phil Mercer in Sydney reports.