Bird flocks black out Australia town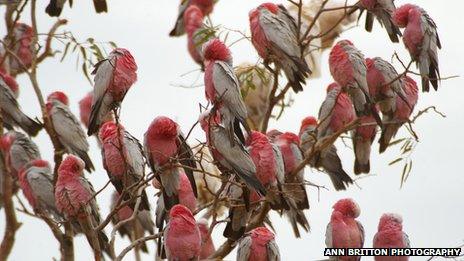 Thousands of birds have flocked to a town in Australia, causing power cuts and a mess, its mayor says.
Around 2,000 pink galahs and white cockatoos have descended on Boulia, Queensland, as a result of the drought, Mayor Rick Britton said.
They have been perching on power lines, causing outages when they take off, he said.
The birds may not leave until November when rain is due, he said, so "people are going to have to live with it".
Galahs are a type of pink-breasted cockatoo found in Australia.
Several shires in Queensland are suffering from drought due to low rainfall. Boulia is in the far west of the state.
"Because we're in dry arid land we try to make our streets beautiful with lawns and trees - so the birds think that it's a little secret haven in the drought," Mr Britton told the BBC.
There were around 2,000 birds in the town, he added.
"When they land, they actually perch on the power-lines in the main street, and when they take off in the morning the wires hit together, so we've been having black outs," he said.
Mr Britton said that while the birds were not menacing in any way, they did "make a fair racket and a fair mess in town".
He said that the birds had been "annoying the township for up to two months", since the drought had been declared.
Some residents had tried to scare off the birds, but there were simply too many, he added.
But Mr Britton also saw a positive side to bird problem.
"For someone who wants to see a large flock of birds, there wouldn't be a better place than Boulia to see them [right now]," he said.
"[They could be] an attraction to our landscape."
Reporting by Helier Cheung, BBC News