Beijing airport blast sets off blame game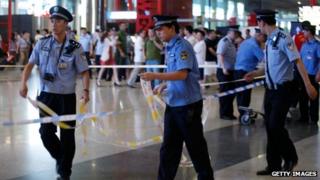 The smoke from an explosion at Beijing's international airport on 20 July had barely cleared before a heated debate began on China's internet and media on what was to blame for the tragic incident.
After warning passengers to stay away, Ji Zhongxing, a disabled man from Shandong Province, detonated a small device, injuring himself. His left hand had to be amputated.
Mr Ji had been petitioning the government for justice for years after security officers in Dongguan, Guangdong Province, allegedly severely beat him in 2005 and left him paralysed.
Reactions to the airport blast have focused on whether it should be seen mainly as a result of social injustice or be condemned as an individual case of "extremism".
Diverging regional interests have also come into play, with local officials in Dongguan and Shandong, Mr Ji's hometown, offering contradictory accounts of Mr Ji's case.
Victim or extremist?
On China's vibrant social media sites, many microblog users expressed sympathy for Mr Ji and blamed the incident on official brutality and the failings of China's petition system.
However, official media have condemned Mr Ji's actions, although some commentators echoed netizens' sympathies and highlighted the social context of his case.
"The dangers of extreme incidents can be seen easily and ought to be condemned. But China's special social context has created some sympathy [towards such incidents]. This also merits deep reflection by everyone," said an editorial in the Southern Metropolis Daily, a liberal newspaper based in Guangzhou.
But conservative commentators have focused on Mr Ji's "extremism" and warned readers against sympathising with him.
The Global Times, a nationalist tabloid owned by Communist Party mouthpiece People's Daily, published an editorial entitled "Extremism by victims is still not tolerable".
While acknowledging Mr Ji "may have his own tale worthy of sympathy", the paper stressed: "It is important to remember that Mr Ji should be condemned and dealt with by law. His grievances can't provide moral support for his extreme actions, nor can they shield him from legal punishment."
However, even the Global Times did not rule out the need to investigate the possible official misconduct that Mr Ji suffered.
Conflicting accounts
The authorities in Dongguan, where the alleged 2005 beating took place, have been quick to react.
Hours after the blast, the Dongguan government issued a statement saying that there was no evidence to support Mr Ji's allegations of beating and that his paralysis had been caused by an accident.
But the government of Juancheng County, Mr Ji's hometown, later confirmed that Mr Ji had been beaten up in Dongguan and said it offered subsidies to him after the incident.
Juancheng officials told Chinese media that Mr Ji had fallen into despair because Dongguan had ignored his plight.
The propaganda department of Juancheng even arranged a media interview with Mr Ji's father, who condemned the Dongguan authorities for beating his son and then neglecting him.
Both Dongguan, which failed to reach a satisfactory settlement with Mr Ji, and Juancheng, which failed to prevent Mr Ji from travelling to Beijing, appear to be trying to shirk responsibilities in this case.
But while attempting to save themselves, the two local governments may have unwittingly damaged people's impressions of the Chinese establishment as a whole.
As Shanghai's Xinmin Evening News commented, "The conflicting accounts mean that at least one side is giving untrue testimony. This has caused immense damage to the government's credibility."
BBC Monitoring reports and analyses news from TV, radio, web and print media around the world. For more reports from BBC Monitoring, click here. You can follow BBC Monitoring on Twitter and Facebook.