Pakistan bomb blasts hit intelligence agency in Sukkur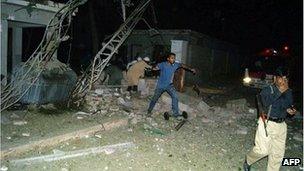 Attackers have stormed an office of Pakistan's intelligence agency, detonating bombs and injuring more than 30 people, police have said.
Gunmen burst into the heavily guarded complex in southern Sindh province and traded gunfire with security personnel.
At least five people were killed, most of them said to be attackers.
Buildings collapsed and officials fear people could be trapped in the debris. No group has said it carried out the attack, in the town of Sukkur.
Police said the target appeared to be the offices of the Inter-Services Intelligence agency (ISI).
Up to 10 attackers stormed the heavily guarded compound.
The gunmen seized control of one of the government buildings while another office was still under fire, according to the state-run Pakistan Television Corporation (PTV).
The roof of a third building was reported to have collapsed, with people feared trapped beneath the rubble.
Police sent reinforcements to the area, officials said, adding that it was not yet clear who was behind the assault.
There has been a series of attacks blamed on Islamist groups, including the Pakistan Taliban, around the country since the new Prime Minister Nawaz Sharif was sworn in last month.
Mr Sharif, who has pledged new action on terrorism, is under mounting pressure to explain how he intends stopping the bloodshed, observers say.