Profile: Pakistani President Mamnoon Hussain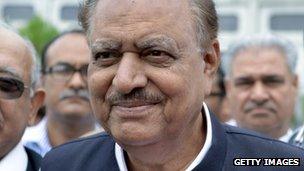 Mamnoon Hussain replaced Asif Ali Zardari as Pakistani President on 9 September.
Victory for Mr Hussain, the candidate of the ruling Pakistan Muslim League (PML-N) of Prime Minister Nawaz Sharif, was seen as a foregone conclusion when lawmakers voted on 30 July 2013.
He took advantage of the PML-N's strength in parliament and the Punjab provincial assembly to win the largely ceremonial post.
The BBC's M Ilyas Khan in Islamabad says the public showed little interest in the election - Mr Hussain lacks the colour and status of his predecessor and he has no political power, our correspondent says.
Mr Husain, 73, defeated former Supreme Court judge Wajihuddin Ahmad of the Pakistan Tehrik-i-Insaaf (PTI) to triumph in the vote, which was boycotted by the main opposition Pakistan People's Party (PPP).
PPP candidate Raza Rabbani withdrew his nomination just days before the polls, saying he had not been given enough time to campaign.
The selection of Mr Hussain ahead of other prominent party leaders like Sartaz Aziz, adviser to Mr Sharif on foreign affairs and national security, took many aback in the PML-N and Pakistan's political circles.
But this is not the first time he has sprung a political surprise. Mr Hussain was unexpectedly appointed governor of Sindh Province in the last days of the PML-N government in June 1999 - a decision which brought him into the political limelight.
Before his nomination as governor, Mr Hussain's only claim to fame was his election as the head of the Karachi Chamber of Commerce and Industry.
But his stint as the governor of Sindh came to an abrupt end after General Pervez Musharraf led a military coup against federal and provincial governments in October 1999.
Mr Hussain, a businessman from Karachi, is known for his loyalty to the PML-N and many feel this made him a trusted candidate for the post.
"When Mr Sharif was in exile after the (military) coup in 1999, Mr Hussain remained very loyal to him and really endeared himself to Nawaz," the Business Recorder newspaper quoted an unnamed PML-N politician as saying.
Mr Hussain was born in 1940 in Agra, India but his family migrated to Pakistan in 1947 at the time of partition.
He graduated from the prestigious Institute of Business Administration in Karachi before joining the PML-N in 1970.