'Burka Avenger' fights for Pakistani schools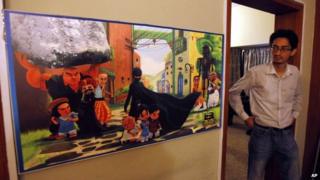 Female cartoon superhero Burka Avenger is set to debut on Pakistani television next month. The country's answer to Wonder Woman and Supergirl uses books and pens against bad guys trying to shut the girls' school where she works. She is already making waves, as BBC Urdu's Saba Eitizaz reports.
Pakistan's first caped crusader is a burka-clad superhero who fights school-hating baddies by night and moonlights as a gentle, compassionate schoolteacher by day.
Burka Avenger has yet to launch on TV, but she is creating quite an impression in a country where female literacy is estimated at a grim 12% and the Taliban are continuing a campaign which has seen hundreds of girls' schools blown up in the north-west.
The animated series is the brain child of Pakistani pop singer Aaron Haroon Rashid, who had actually set out to develop an iPhone game app by the same name last year.
A small animated video was developed to promote the app but the main character took on a life of her own, which has led to a 13-episode animated series to be aired on the Geo television channel early next month.
"This is such an interesting way to reinforce positive social messages for kids," Mr Rashid told the BBC. "The Burka Avenger is a great role model. We lack those in Pakistan."
'Non-violent'
Many real life women's rights crusaders in Pakistan might not agree. The use of the burka, the full cloth head-to-toe veil that is often worn by women in the north-west and tribal areas of Pakistan, is controversial in a country which has been reeling from the effects of religious extremism over the past decade.
Marvi Sirmed, an Islamabad-based journalist and human rights activist, thinks that it is not right to build a resistance figure out of a woman wearing a garment that has been strongly associated by some with the suppression of women.
"It is subversive and it says that you can only get power when you don a symbol of oppression," says Ms Sirmed.
"It is demeaning to those brave women in the conservative parts of Pakistan who have been fighting for women's rights, education and justice, and who have said 'no' to this kind of stereotype."
Taha Iqbal, the head of animations for Burka Avenger, thinks that everyone should just wait for the series to come out.
He says like any other superhero, Burka Avenger has a back-story too and her reasons for wearing the burka have nothing to do with subservience.
"Besides she has to kick ass," he says. "Tight leather pants are hardly practical for that purpose."
The video clips from the animated series have gone viral over social media even before any official promotional work has been done by Unicorn Black, Aaron Rashid's own production house.
The entire series has been developed in just over a year by a 22-member production team operating out of a small office in Islamabad.
Music videos are also being released featuring some of Pakistan's top musicians like Ali Azmat, Josh and Ali Zafar. T-shirts and other merchandise will also be put on sale, aiming to launch Burka Avenger as a Pakistani superhero brand.
Aaron Rashid says the theme will not only centre around the girls' school but will also teach children about the values of tolerance, equality and other social issues in Pakistani society.
He emphasises that the central theme is non-violence, arguing that the main protagonist uses books and pens to thwart her enemies even though she hits people with them.
Is the symbolism too complex for small children to understand?
Mr Rashid disagrees.
"She's saying the pen is mightier than the sword," he insists. "She is non-violent because she's throwing books. Most people throw bombs. Think about it."