S Korean climbers 'found dead' in Japan's central Alps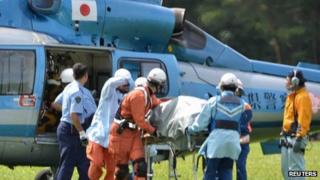 Three South Korean climbers who went missing on a Japanese mountain range have been found dead, reports say.
The three were part of a group of 20 who were climbing Japan's central Alps. Several of them were reported missing on Monday.
The three climbers were found on routes between the 2,931-metre (9,616 ft) Mt Hoken, and the 2,728-metre (8950 ft) Mt Hinokio on Tuesday, reports said.
Most other climbers have been confirmed safe, but at least one remains missing.
"We found three people early this morning. They were not breathing and their hearts had stopped beating," a police officer told AFP news agency.
Police said the three were still being taken down the mountain and would need to be examined by a medical examiner, AP news agency reported.
The climbers were members of a South Korean club, and were taking part in a group tour organised by a regional tour agency, South Korean news agency Yonhap said, citing the club.
They were travelling in the central Alps, near Komagane city in Nagano prefecture.
The climbing party was made up of 14 men and six women, ranging in age from their 40s to their 70s.
A Japanese hiker who saw some of the South Korean hikers at a mountain lodge said they were warming themselves by the stove.
"It was a storm up there, the wind and rain were terrible," the hiker told broadcaster NHK. "The South Koreans came over saying 'It's cold, it's cold.'"