Fourth S Korean climber found dead on Japan mountain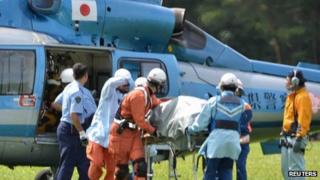 The body of a fourth South Korean climber has been found on a mountain range in Japan's central Alps.
The climbers, part of a 20-strong group, were reported missing on Monday.
Three bodies were recovered on Tuesday near the 2,931-metre (9,616 ft) Mt Hoken and the 2,728-metre (8950 ft) Mt Hinokio and a fourth on Wednesday. The other climbers are confirmed safe.
The first three men were believed to have died from hypothermia, a Nagano prefectural police official said.
The fourth body, which was discovered later on Tuesday and brought down from the mountain on Wednesday, was still awaiting examination, he added.
The group had been climbing Japan's central Alps near Komagane city in Nagano prefecture.
The climbing party was made up of 14 men and six women, ranging in age from their 40s to their 70s.
On Monday, nine of the climbers became separated from the group amid bad weather. Five of them returned safely.