Why 1984 Golden Temple raid still rankles for Sikhs
By Poonam Taneja
BBC Asian Network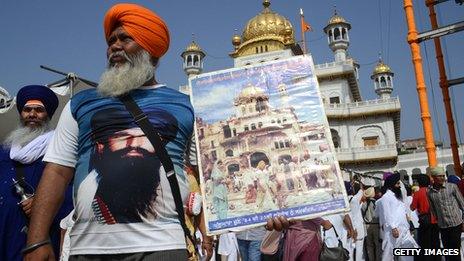 Four Sikhs have been convicted in London of attacking a retired general who led the Indian army's assault in 1984 on the Golden Temple in Amritsar.
The attack on Lt Gen Kuldeep Singh Brar, 78, in September last year brought one of the most controversial events in recent Indian history back into the headlines.
The storming of the Golden Temple, codenamed Operation Blue Star, was aimed at flushing out Sikh separatists.
They had been demanding an independent homeland - called Khalistan - in the Punjab.
The army's operation outraged Sikhs around the world, who accused the troops of desecrating the faith's holiest shrine.
According to the Indian government, about 400 people were killed, including 87 soldiers.
But Sikh groups dispute this figure. They say thousands died, including a large number of pilgrims who were there for an important Sikh festival, the anniversary of the death of their fifth guru, Arjan Dev Ji.
Parts of the temple were damaged during the fighting and Sikhs felt it was an attack on their religion.
Operation Blue Star led to the assassination of Prime Minister Indira Gandhi, who was killed by her Sikh bodyguards in revenge.
Almost three decades later a group of Sikhs saw an opportunity to take revenge on Lt Gen Brar, who was in London on holiday with his wife Meena, a visit the couple regularly made, astonishingly without any security.
Lt Gen Brar told the court - by video-link from India - there had been many attempts on his life since 1984 and several extremist Sikh websites had had him listed as their number one target.
The jury at Southwark Crown Court were told by Lt Gen Brar: "[Operation Blue Star] wasn't carried out against the Sikh community but against militants who had been carrying out a lot of killings."
He said they had given the militants lots of warnings but when they had failed to respond, they had had no other option but to go into the temple.
He said he had told his soldiers to use minimum force and not to damage the temple, but after the soldiers came under attack from all sides "they were dropping like mosquitoes.
"You can't sit there like dead ducks," he said, adding that they had had to fight back to defend themselves.
His attackers - Mandeep Singh Sandhu, 34, Birmingham, and Dilbag Singh, 36, from London, were just children when Operation Blue Star took place, but they bore a grudge.
The court was told that two members of Dilbag Singh's family had been missing since 1984 - his father and brother, who were in the temple complex at the time of the Indian army's attack.
When Singh Sandhu and Dilbag Singh found out Lt Gen Brar and his wife were in the capital, they made two reconnaissance missions to check out their movements.
A friend, Harjit Kaur, 38, of Hayes, west London, followed the couple into a casino, a restaurant and onto a bus.
Then on the night of 30 September, in a quiet street just yards away from their hotel, Lt Gen Brar and his wife were attacked.
The court heard Mrs Brar was thrown against a wall as three men grappled with her husband.
He told the court: "I shouted out, 'Who are you? Go away!' and tried to fight back."
Three assailants wrestled him to the ground and a fourth slashed his throat.
"I thought I was never going to see my wife and children again," he said.
The attackers ran off into the night and drinkers from a nearby pub helped Lt Gen Brar as blood poured from his wounds.
He was taken to hospital, where he needed emergency surgery to the deep cuts to his face and neck.
The police initially treated it as attempted murder, but the defendants were charged with wounding with intent to commit grievous bodily harm.
Dilbag Singh admitted he had followed Lt Gen Brar but said it had been with a view to exposing him to the Sikh community so they could protest against his presence in London.
Mandeep Singh Sandhu refused to give evidence.
Kaur also denied the charge.
But all three were found guilty of wounding with intent to do grievous bodily harm.
A fourth man, Barjinder Singh Sangha, 33, of Wolverhampton, had previously pleaded guilty to wounding with intent to do grievous bodily harm.
Another man remains at large.
Related Internet Links
The BBC is not responsible for the content of external sites.