Man jailed for life over deadly Sydney nursing home blaze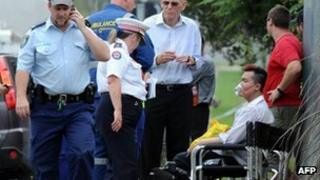 A man who started a fire that killed 11 elderly people at a nursing home in the Australian city of Sydney has been jailed for life without parole.
Roger Dean, 37, pleaded guilty in May to 11 counts of murder in connection with the 18 November 2011 blaze at the Quakers' Hill Nursing Home.
The fire engulfed a building that was home to dozens of elderly residents.
Five people died at the scene or in the immediate aftermath of the fire, and six more later from their injuries.
Dean, who also admitted eight counts of grievous bodily harm, worked as a nurse at the home. He said he had been "corrupted with evil thoughts".
Police said he set the fire to conceal his theft of painkillers from the home.
At the sentencing hearing, Judge Megan Latham described his crime as "atrocious", saying those who died must have suffered "pain and terror".
"For those who were unable to move independently and who faced the prospect of being burnt alive or suffocated by smoke, a worse fate is difficult to imagine," she said.
During the fire hundreds of fire-fighters battled flames and plumes of thick smoke to evacuate more than 80 residents.
The nursing home had no sprinkler system - something which is now mandatory in such facilities in the state of New South Wales.