Australia moves first asylum-seekers to PNG after policy shift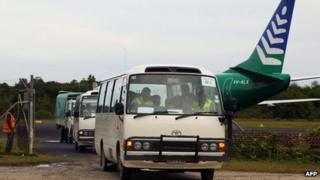 Australia has transferred the first group of asylum-seekers to Papua New Guinea under its new offshore resettlement policy, officials say.
Forty people, mostly Afghan and Iranian men, were flown from Christmas Island to PNG's Manus Island.
Immigration Minister Tony Burke said the new policy sent a stern warning to people-smugglers.
Under a deal signed on 19 July, asylum-seekers arriving by boat in Australia will be sent to PNG for processing.
Those found to be refugees will be permanently resettled in PNG, which will receive infrastructure investment from Australia. The asylum-seekers will have no right to settle in Australia.
Australia has been trying to stem a sharp rise in the number of boat arrivals, just a few weeks out from a general election in which asylum is expected to be a key issue.
With the transfer, Mr Burke said that "the people-smugglers no longer have a product to sell".
"There is no point getting on a boat anymore. And the first group that has gone across under the new rules have this applied to them," he added.
PNG Prime Minister Peter O'Neill told Australian media on Thursday that Australia had agreed to fund almost A$500m ($448m, £329m) towards infrastructure projects in PNG as part of the asylum deal.
But the deal is proving highly controversial, with critics accusing Australia of shirking obligations and outsourcing its problem to a developing nation.
The UN High Commission for Refugees (UNHCR) said there were "significant shortcomings" in PNG's legal system for processing asylum seekers.
"These include a lack of national capacity and expertise in processing, and poor physical conditions within open-ended, mandatory and arbitrary detention settings," the UNHCR said last week.