Nepalese folk-rock band Nepathya to headline Wembley Arena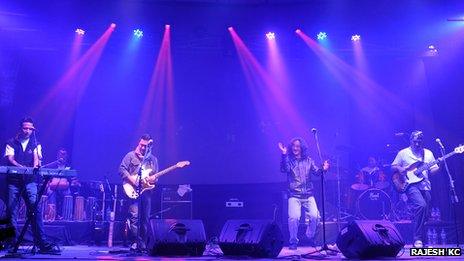 Nepalese folk-rock band Nepathya are to play as the headline act in a concert at London's Wembley Arena on Saturday, one of the UK's largest venues.
Organisers say people are travelling to the UK from Holland, Belgium, Norway and the US for the show, which has had widespread media coverage in Nepal.
"It is like a dream come true to play at Wembley," singer Amrit Gurung said.
The band - which formed in 1990 - is famed for its "peace tours" during the 1996-2006 Nepalese civil war.
More than 15,000 people died in the conflict.
In 2001 - when the Nepalese government declared a state of emergency, and travelling was considered risky - Nepathya went on a five-date tour called "Education for Peace".
Profits went towards building libraries in the war-torn towns and cities where they played.
In 2003, with the war still raging, the band went on another peace tour, selling out six venues across Nepal. The smallest attendance was 15,000 people. The biggest was 50,000.
Other tours took place in 2004 and in 2005 - when more than 300,000 people watched the eight concerts. Tens of thousands of dollars were raised for good causes.
The band have also played concerts across the world, including in India, Hong Kong, the United States, South Korea, the Netherlands, Belgium, Australia and Israel.
Gurung said it was "fantastic for us to come to the UK".
"I've always wanted to perform here, and to play at Wembley is even better. We are following in some famous footsteps."
One of the tour organisers, Kiran Shrestha, said he first wanted to bring Nepathya to Wembley in 2003. "I'm not sure people took me seriously," he said.
"Now, the dream has come true. People in Nepal are very excited. Amrit has 50,000 followers on Facebook - when he posted about this trip, there were 2,000 likes immediately.
"There is a huge Nepalese diaspora that want to hear this music. We played in Sydney, which was the spark. Now we hope Nepalese music will catch fire all over the world."
The band are in the UK for a week. Wembley is their only concert.
Related Internet Links
The BBC is not responsible for the content of external sites.