Australian election call: Voters react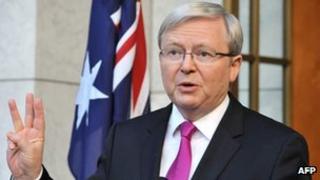 Australian Prime Minister Kevin Rudd has called an election for 7 September, six weeks after defeating former PM Julia Gillard in an internal Labor party vote.
The head of the centre-left party faces stiff competition from opposition leader Tony Abbott, who is favourite to win.
Here, Australian voters - sending in their comments via the BBC News website - react to the election being called and look ahead to the September poll.
"This election is going to be the most interesting contest between the two major parties since Gough Whitlam won in 1972. It is almost too close to call with Kevin Rudd elevating the Labor Party to an election-winning position in only a matter of weeks. It is really too hard to pick." Stuart Waldon, Sydney
"As a young Australian, I have been left disillusioned by the low state of civility shown by both the Labor Party and the Liberal/National Coalition. Both parties have lurched far to the right on key issues, particularly on asylum policy. On the other side of the spectrum, the pretty extreme Green Party, the third largest Australian party, has no realistic economic plan for the country. That's why I will be voting for the centrist, social liberal Australian Democrats. They seem to represent the comfortable alternative between right and left that many Australians are looking for." Kal Slater, Canberra
"Australia is in a terrible mess. Every one of my friends says they do not know who to vote for. I will not be voting for Tony Abbott and most of my friends, who are mainly Liberal voters, will not be either. Kevin Rudd's image as the comeback kid is not believable. Most people are in a state of disbelief at the way things are. As a woman, I am outraged at the treatment meted out to Julia Gillard. Australian politics is laughable. Not voting incurs a fine so I think everyone is trying very hard to choose the lesser evil. I have previously voted Labor but am not sure how to go this time. Probably Independent." Mary Edwards, Melville, Western Australia
"I won't be voting for Rudd's Labor Party. They are far left, not centre left. They have taken a hard-earned surplus and turned it into $200 billion net debt. Their last debt legacy took eight years to repay, which were the biggest boom years Australia has ever seen. God only knows how long it will take to repay this debt during the declining years ahead." Rick Atkinson, North Curl Curl, New South Wales
"I'll be voting for the Liberals since they are the pro-war party and I believe that Australia should be more actively involved in wars of liberation. In Iraq, Australia only contributed a fraction of what the US and UK contributed. Also, Australia left Iraq early - before the job was completed - betraying our US and Iraqi allies." Paul Edwards, Sydney
"Finally, Australians have a date for our ballots to be cast. This is a country still divided on immigration policy, slow economic growth and leadership contests. I hope that both major parties take a good hard look at themselves and start anew. Since the hung parliament result in 2010, this country sadly might have taken a few steps backwards as a result of our government's policies and leadership changes. One minute the government is saying how great our economy is and how it is the envy of the world. The next, we hear about business closures, redundancies and families left to wonder about the future. There are big issues to be tackled. I remain undecided but the opposition party needs to step up and show some energy." Shane Oliver, Sydney
"Kevin Rudd can pretend that he is a contender all he likes, but the reality is this - he was removed as PM in the first place because his own party knew he was out of control. He was presented with a massive budget surplus and squandered it. He was presented with a solution to the continual boat arrivals and created a problem in response. If his own party can't trust him, why should the general public?" Lily Cameron, Townsville
"I will be voting for Kevin Rudd and Labor in this election because they have done a lot of great things while in office. Putting a price on carbon and creating the National Disabilities Insurance Scheme are important reforms, as well as good infrastructure developments, such as the National Broadband Network which is important for regional Australia. However, I think the treatment of asylum seekers in the policies of both major parties is abhorrent. Desperate people have been used as a political football in Australia. It is a national shame." Timothy Sullivan, Sydney
"After two decades of army veterans being - no other way to put it - shafted, I'm inclined to consider not voting in a country with compulsory voting. We've lost 70% of our relative income, courtesy of governments from both sides of the political divide. Now, on top of that, as we withdraw from Afghanistan, the amended budget says that the Department of Veterans Affairs (DVA) is to lose half a billion dollars. That's money that should be focused on the health and welfare of returning veterans and their families. I'm gobsmacked. Australia has lost its way." Jim Duffield, Perth