Pakistan Baloch gunmen kill 13 bus passengers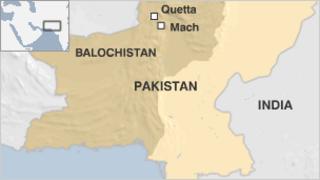 Separatist Baloch gunmen say that they have killed at least 13 bus passengers in the south-west of Pakistan.
They told BBC Urdu they had abducted 26 passengers and shot half of them dead because they had military or security credentials.
The militants blocked the road on which at least two buses were travelling, officials say, and the bodies of the 13 were found nearby.
The Baloch Liberation Army (BLA) says it was responsible for the killings.
Police say that the attackers specifically targeted people from the Punjab province who were working in Balochistan, and that only two of the murdered passengers belonged to the security services.
Baloch separatists regularly accuse Pakistanis from other provinces - especially Punjab - of plundering Balochistan of its natural gas and mineral wealth.
The passengers were returning home to Punjab to celebrate the end of Ramadan, officials say. They were shot in the head and chest from close range by attackers disguised in police uniforms.
The fate of the other 13 passengers is not clear. Police told the Reuters news agency that they were still missing, but a BLA spokesman told Reuters that they had been released.
The incident happened on Monday night in the Mach area, about 50km (31 miles) south-east of the provincial capital, Quetta.
Balochistan is plagued by both sectarian infighting between Sunnis and Shias and a rebellion by Baloch separatists, who since 2004 have been fighting for political autonomy and a share of natural resources.
"These 13 people were either employees of the army or of other security institutions," BLA spokesman Meerak Baloch told the AFP news agency.
Radio Pakistan quoted Pakistan President Asif Ali Zardari condemning the attack and ordering local authorities to take strict action.
In a separate incident, two army officers and a policeman were ambushed and killed at Chilas in the far north of the country.
The Pakistani Taliban told BBC Urdu that it had carried out the killings.
The Taliban killed 10 mountaineers of mixed nationalities in the same area in June.