Japan urges suspension after US Okinawa helicopter crash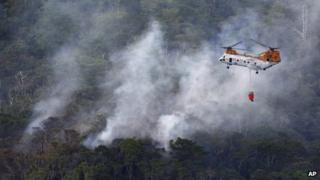 Japan has asked the US to suspend some helicopter operations until a crash on Monday has been investigated.
The HH-60 helicopter crashed at Camp Hansen, a US base on Okinawa island in southern Japan.
Three of the four crew members have been confirmed safe but the search for the fourth has been called off.
The crash has worried local residents, some of whom want US bases removed from the island, with groups staging protests on Tuesday.
Japanese Prime Minister Shinzo Abe asked the US to suspend all HH-60 operations in Japan until the cause of the crash was established.
"I conveyed my regrets over the accident to the US side and strongly asked them to take preventative measures, share information and pursue the cause of the accident," Mr Abe said on Tuesday.
"I asked [the US] to suspend, for now, the operation of the same types of helicopters as the one that crashed."
In a statement, the US air force at Kadena air base said that three of the four crew members on the helicopter were "in a stable condition".
The search for the fourth crew member had been called off after human remains were found at the site, it added.
There were no casualties among local residents.
The US bases some 26,000 troops on Okinawa under a long-standing security alliance with Japan.
But the bases are unpopular locally and there is growing pressure from residents for the US military footprint to be reduced.
As a result, incidents involving the US military in Okinawa are a very sensitive issue.
The US says it is planning to relocate several thousand marines off Okinawa to Guam, but has linked their departure to progress on a new base in the north of the island - which many residents oppose.