Taiwan defence minister resigns amid plagiarism row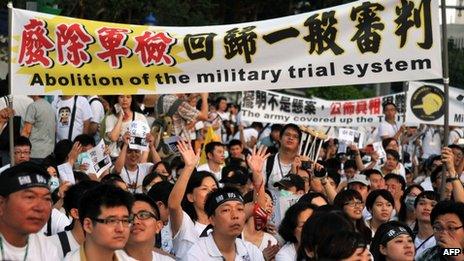 Taiwan's defence minister, Andrew Yang, has resigned six days after taking office amid plagiarism allegations.
Mr Yang faces claims that an article published under his name in 2007 copied content from another magazine.
He is the second defence minister to resign in a week, at a time when the island's military has come under increased public scrutiny.
Mr Yang's predecessor, Kao Hua-chu, stepped down on 31 July amid public anger over an army conscript's death.
Mr Yang said that the article about mainland China's People's Liberation Army, said to contain plagiarised material, had been written by a friend, although it was published under his name.
"This is my personal mistake and I apologise for it," he told reporters at a press conference late on Tuesday.
"Right now the government and the military are facing great challenges, but my personal mistake has affected the government and military's honour, and also affected the reputation of the president and premier."
Mr Yang, who was the first civilian to lead the defence ministry, replaced Mr Kao on 31 July.
The defence ministry faced public criticism following the death of conscript Hung Chung-chiu on 3 July.
The 24-year-old died after suffering from heatstroke. He had been forced to undergo vigorous exercises and solitary confinement as punishment for bringing a camera phone onto his base.
On Saturday, tens of thousands of people protested in Taipei against the corporal's death.