Vietnam's lost children in labyrinth of slave labour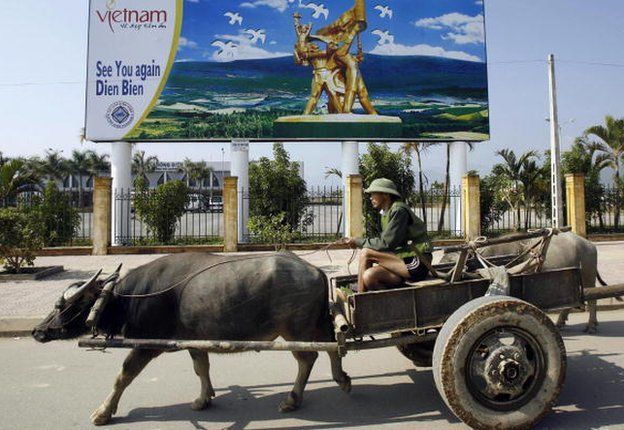 Last year, three teenage boys jumped out of a third-floor window in Ho Chi Minh City and ran as fast as they could until they found help. It was one in the morning and they did not know where they were going.
"I was really scared someone would catch us," recalled Hieu, 18.
Hieu, who did not want to give his real name, is from the Khmu ethnic minority. He grew up in a small village in Dien Bien, a mountainous area in north-western Vietnam, one of the country's poorest provinces and bordering China.
When he was 16 he had a job making coal bricks in his home village when a woman approached him offering vocational training.
"My parents were happy I could go and earn some money," he said.
He and 11 other children from his village were taken by bus on a 2,100km (1,300 miles) journey and put to work in Ho Chi Minh City (formerly Saigon), south Vietnam.
They spent the next two years locked in a cramped room making clothes for a small garment factory with no wages.
"We started at 6am and finished work at midnight," he said. "If we made a mistake making the clothes they would beat us with a stick."
Prostitution, begging and garment factories
Hieu is one of more than 230 child-trafficking victims that the Vietnam-based charity Blue Dragon Children's Foundation has rescued since 2005.
The charity helps children forced into a variety of jobs from prostitution to begging, but in the past year just over a quarter of that number have been rescued from garment factories in Ho Chi Minh City, the country's largest metropolis and industrial centre.
Conditions are often harsh.
"Last year we raided one factory. I think 14 people work, sleep, eat in a small room with the machines," says Blue Dragon's lawyer. "The factory owner only let them go to the bathroom for eight minutes a day, including brushing your teeth, washing, going to the toilet. "
The youngest was 11 and most were from ethnic minorities.
"They are taking kids from central and northern Vietnam because they are assuming those kids can't escape," said Blue Dragon co-founder Michael Brosowski.
"If they get kids from nearby, those kids can just walk out or walk home."
Mr Brosowski believes traffickers are targeting more remote areas such as Dien Bien province because communities there do not know about the risks of human trafficking.
Gangs approach local officials pretending to offer jobs or vocational training to children of the poorest families. Many are happy to send the children away.
Some villages Blue Dragon visit are missing dozens of children.
Parents and officials only realise there is a problem when the charity shows them pictures of garment factories they have raided in the past.
"When they realise the kids are now slaves in sweatshops, they want them back," he said.
Mr Brosowski believes the problem is getting worse, partly because it is so lucrative and other people in the trafficking business want "a piece of the pie", he said.
It also fits a nationwide trend as the rural poor seek jobs in the city. He does not believe the clothes are produced for export, but cannot say for sure.
'Tens of thousands of kids and adults'
Tackling external trafficking has long been on the government's agenda, and Vietnam has been praised for an increase in the number of prosecutions involving overseas gang activity.
According to official figures, a total of about 7,000 people, 80% of whom are women and children, have been trafficked internationally or domestically since 2005.
Independent experts say the number is likely to be much higher.
Children are taken from all over the country to work in brothels in China, South East Asia and Europe.
China's one-child policy has also led to a demand for male babies, which is met partly by Vietnamese mothers selling their infants, but there have also been cases of Vietnamese girls being sold to Chinese men to be impregnated.
Young men or boys are also trafficked to the UK to work in cannabis farms.
Government figures do not give the ratio of external and internal trafficking. However, the scale of the problem within the country is only just emerging.
"At any given time there must be tens of thousands of kids and adults in situations they have been trafficked [to, within Vietnam]," an expert who works in the field said on condition of anonymity.
The estimate was accepted as accurate by others who work for organisations with expert knowledge on human trafficking in Vietnam who also did not want to go on the record.
Much of the problem arises because of the legal status of trafficking victims, says Florian Forster, head of the International Office of Migration (IOM) in Vietnam.
"Trafficking across international borders was recognised for a much longer time but internal trafficking has only been officially recognised since 2011. It takes time to implement those things, for the government to spread the message," he says.
The new law came into effect in January last year but as yet no guidelines exist on how to use it.
Mr Forster says the details are "being worked on" but it "requires training."
In the meantime, most internal labour traffickers are generally not treated as criminals but are punished with administrative sanctions, such as illegal detention or use of weapons, Vu Thi Thu Phuong, of the United Nations Inter-Agency Project on Human Trafficking (UNIAP), said.
The factory owner who imprisoned Hieu was fined $500 and the factory was closed down, but he did not go to court.
While the government is deciding how to punish internal trafficking, debate continues about the severity of the problem. This is partly because some children receive wages.
"We have come across kids who are paid, and the amount might come to $50 or $100 for a year," said Mr Brosowski. "Given that the children work 18 hours per day, seven days per week, that money is ridiculously paltry.
"No one is doubting that a girl taken to a brothel in China is extremely severe," Mr Brosowski said.
"But culturally there's still a bit of discussion about whether it's so bad that a child whose family are very poor, doesn't have enough to eat, has dropped out of school, if he goes to a factory, is that such a bad thing?"
For Hieu at least, the horror of the sweatshop is in the past. He decided not to go back to Dien Bien, and Blue Dragon is helping him train as a mechanic in Hanoi.
"I hope my life will be better and I can help my family," he said.
Related Internet Links
The BBC is not responsible for the content of external sites.