Vietnam businessman's big dreams for 'smallest US town'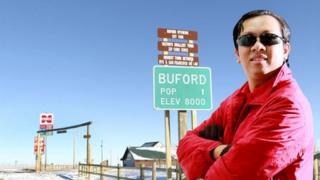 When Pham Dinh Nguyen learnt that he won the auction to buy Buford, the smallest town in the United States, in April last year, he felt a surge of excitement.
Mr Nguyen said at the time that it was like he had gotten hold of a slice of the famous "American dream".
"I can now say that I own something in the United States!" he said.
And the 38-year-old businessman has a plan. His tiny outpost is to become a hub for Vietnamese coffee - and it is getting a new name.
'Cute and interesting'
Pham Dinh Nguyen admits that it was a sudden decision to take part in the bidding for the town.
"I have never been to the US before, it was the first time I set foot in the country when I went to see Buford. I did spend some time reading about it on the internet, though," he said.
The tiny town is located on Interstate 80 between Laramie and Cheyenne, the state capital of Wyoming.
It spreads across four hectares of land and consists of a petrol station, a convenience store, a garage, a post office and a three-bedroom house.
Buford was established in 1866 and it once had a population of 2,000 when the Transcontinental Railroad was built nearby. But since the railroad was re-routed, the population has shrunk to just one inhabitant.
The Saigon-based entrepreneur said when he first saw the town in real life, he thought it was "cute and interesting".
"I knew it was famous for being the smallest town in the United States, so I decided to enter the auction for it even though I did not have much of an idea about what I was going to do with it," he confessed.
But having borrowed money from friends and relatives, Pham Dinh Nguyen was successful. He purchased Buford for $900,000 (£581,000) from its previous owner, Don Sammons, who he made "my co-mayor of the town".
Mr Sammons bought Buford in 1992 and has been its only inhabitant since 2007.
He now manages the town on behalf of its owner, who remains in Vietnam running his trade and distribution company.
'My philosophy'
Pham Dinh Nguyen told the BBC he had big plans for the tiny town - including renaming it PhinDeli town in September.
"Phin is the Vietnamese word for the coffee drip filter, and Deli is for delicious," he explained.
PhinDeli is also the name of the Vietnam-produced coffee brand for which Mr Nguyen is the only distributor both domestically and overseas.
Vietnam is one of the world's top coffee producers. In 2012, it sold nearly $3.5bn of coffee overseas, $500m of which went to the US market.
"I will make PhinDeli town a showroom of Vietnamese products and an exhibition of Vietnamese culture," he said.
Some say flying the Vietnamese flag on American soil sounds too vague as a business plan.
"Of course, a business needs to bring in money, but doing business in the United States you have to look long-term," Mr Nguyen said. "You have to have a philosophy, and this is my philosophy."
It is not clear how much traffic the planned coffee hub will see, but Mr Nguyen is undaunted.
"Vietnamese filtered coffee is one of the unique pleasures my country can offer, and I hope my visitors will be able to enjoy the Vietnamese uniqueness in my town," he said.