Typhoon Utor displaces thousands in the Philippines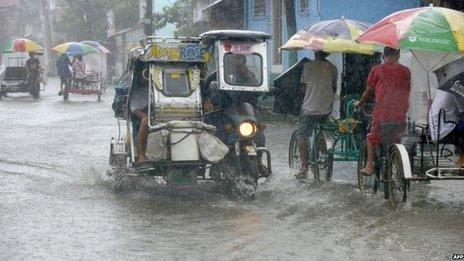 Thousands of residents in the northern Philippines were left homeless after a powerful typhoon hit on Monday, officials say.
At least two people died and 11 were missing in the wake of Typhoon Utor, the national disaster agency said.
The storm made landfall in the north of the main island of Luzon early on Monday, bringing winds of up to 210kp/h (130 mph) and heavy rain.
It is forecast to head towards southern China on Tuesday.
"Trees have fallen down, roofs have been torn off houses, electric poles and electric towers have collapsed," Reynaldo Balido, from the national disaster agency, told Agence-France Presse news agency.
Typhoon Utor displaced more than 100,000 people from three cities in 14 provinces, the national disaster agency said in a statement.
Rescuers on Tuesday were still working to clear blocked roads to remote towns directly hit by the typhoon in Aurora province, located north-east of the capital, Manila, according to reports.
Most classes on Monday were cancelled in Manila and in Luzon. Some domestic flights on Monday were also cancelled, as well as passenger and ferry trips.
The typhoon is one of 20 forecast to hit the Philippines this year, officials say.
The country has been hit by two devastating storms in recent years - in 2011, Typhoon Washi left about 1,300 people dead when it struck northern Mindanao and in 2012 Typhoon Bopha left more than 1,000 people dead.
Typhoon Utor is forecast to move across the northern part of the South China Sea and make landfall in China's Guangdong province on Wednesday night.
China's maritime authority on Tuesday has already issued the second-highest weather alert warning, state-run Xinhua news agency reported.
Related Internet Links
The BBC is not responsible for the content of external sites.