Role of TV channels in Pakistan stand-off questioned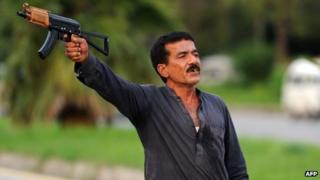 The BBC's Haroon Rashid in the Pakistani capital Islamabad says that saturation live TV coverage of a five-hour stand-off between police and a gunman in the city reflects both a bitterly fought ratings battle and doubts about the benefits of 24-hour news.
For many television channels, the drama presented a golden opportunity.
A gunman, making a series of incoherent demands and wielding two automatic weapons in the centre of the city, was dramatically arrested after a politician intervened to disarm him.
Both the gunman and his wife received injuries, but neither is thought to be seriously injured.
What has become known as the Thursday Evening Thriller was covered by dozens of news channels.
One news channel's presenter described the armed man, who was accompanied throughout the stand-off by his wife and two children, as "holding Islamabad hostage for over five hours".
But the truth was a little more prosaic. He was holed up in the city's business district, miles away from the most sensitive government buildings or prominent officials.
'Painstaking'
In addition, only a few hundred metres of one of Islamabad's main roads were affected. Although security was tight around this area, most of Islamabad's two million residents went about their business as normal.
Many believe that the non-stop television coverage made the police reluctant to step in sooner and take action against the gunman, identified as Muhammad Sikandar, from Punjab province.
Many Islamabad residents believe that had the armed impasse not been under the gaze of the cameras, it would have ended much sooner - within minutes, not hours.
"If it had been left to the local police they would have taught the gunman a lesson in no time," commented one resident. "But in front of live cameras, they did not wish to do much except adopt a painstaking wait-and-see policy."
In addition, there are other questions which have been asked about the wall-to-wall coverage.
When senior policemen asked reporters several times to stand back so that the commandos could at least a secure a 300m (980ft) radius around Mr Sikandar, many journalists flatly refused.
That is why throughout the stand-off it was possible to see hundreds of people and reporters behind Mr Sikandar.
It was fortunate under these circumstances that the unilateral decision by Pakistan People's Party politician Zamurad Khan to end the impasse did not go badly wrong.
His split-second decision to jump on the armed man in front of the cameras was hardly the best formulated of plans and could have cost him and the various onlookers their lives.
Police say that he acted on his own and ignored their advice not to go near the gunman. But it seems that killing people was thankfully not Mr Sikandar's intention.
He had enough time to shoot Mr Khan and numerous others, but did not.
In the event it turned out to be Mr Khan's lucky day - he is being hailed as a national hero by the same media channels whose personnel were so endangered by his actions.
Then there was the overall tone of the TV channels' reporting of the stand-off, which in many cases was voyeuristic in the extreme. At one point pictures were broadcast of Mr Sikandar urinating.
Critics on Twitter have argued that the media circus made it much harder for an adrenalin-filled gunman to surrender peacefully. Off camera he might have been easily persuaded to lay down his arms.
In the aftermath of the stand-off, many local residents believe the police should have been much more forceful with the media.
But since all ended well, the news channels can hold their breath in anticipation of the next breaking story.