Thai police seize methamphetamine pills worth $6m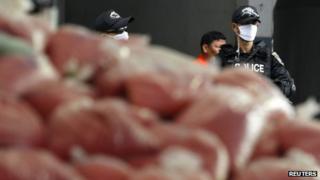 Police in Thailand say they have seized methamphetamine pills worth almost $6m (4.5m euros, £3.8m) thought to be en route to the capital Bangkok.
The haul of nearly one million pills was discovered at a checkpoint in northern Chiang Rai province in the Golden Triangle region.
Packs of the drug, also known as crystal meth, were hidden in the roof of a pick-up truck.
The Golden Triangle is notorious for drug smuggling, particularly of opium.
Deputy provincial police chief Virat Sumanaphan told AFP news agency that the seized drugs had an estimated value of up to $6 (4.50 euros, £3.8) per pill.
Three men and a woman, all from neighbouring Chiang Mai province, were arrested on suspicion of drug smuggling.