North Korea agrees to family reunions with South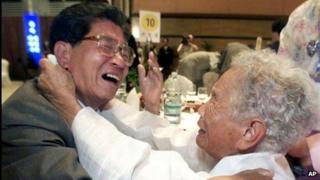 North Korea has agreed to a South Korean proposal to resume reunions of families separated since the 1950-1953 war, official media in Pyongyang say.
The reunions will take place in a North Korean tourist resort on 19 September.
South Korea's President Park Geun-hye called last week for the resumption of the reunions, last held in 2010.
Her appeal followed an agreement to reopen a joint industrial plant, the latest step in the easing of tension between the two countries.
Mt Kumgang
The latest statement on the reunions came from the North's Committee for the Peaceful Reunification of Korea.
It said: "The reunion of separated families and their relatives shall be made in Mt Kumgang resort on the occasion of the upcoming Harvest Moon Day."
Talks will take place between Red Cross officials from both sides on 23 August at Mt Kumgang to prepare for the reunions.
Many families were separated at the end of the 1950-53 Korean War by the dividing of the peninsula. The two sides remain technically at war, because the conflict ended in an armistice and not a peace deal.
The North Korean statement also called for the resumption of tourist trips to Mt Kumgang.
The resort, the first major joint project between the nations, hosted thousands of South Korean visitors between 1998 and 2008 but tours were suspended after a North Korean soldier shot dead a tourist who strayed into a restricted area.
The CPRK said: "The Kaesong Industrial Zone and the tours to Mt Kumgang resort are valuable works common to the nation which should not be delayed as they are symbols of reconciliation, unity, reunification and prosperity."
The Kaesong Industrial Complex is home to 123 South Korean factories which employ more than 50,000 North Korean workers. The inter-Korean joint project is a key source of revenue for Pyongyang.
North Korea withdrew its workers in April, angered by the expansion of UN sanctions after its 12 February nuclear test and annual US-South Korea military drills.
After the Kaesong deal last week, President Park said: "I hope this agreement will help correct wrong practices of the past inter-Korean relations and pave the way for new relations of co-existence."