Australia election: Tony Abbott launches campaign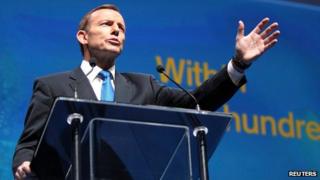 Australia's conservative opposition leader Tony Abbott, the favourite to win next month's general election, has launched his campaign.
He has vowed to control government spending and build a stronger economy by putting "bulldozers on the ground and cranes into our skies".
Opinion polls show Mr Abbott is poised to end six years of Labor rule.
Earlier this week, Mr Abbott faced electoral rival and Prime Minister Kevin Rudd in a second election debate.
Addressing a major rally of his Liberal Party in the city of Brisbane, eastern Australia, on Sunday, Mr Abbott said the country could not afford another term under the governing centre-left Labor.
"We'll build a stronger economy so everyone can get ahead... I hope to be an infrastructure prime minister who puts bulldozers on the ground and cranes into our skies," he said.
The first debate between the two election rivals on 11 August, where Mr Rudd had been expected to shine, was seen as a draw.
It remains unclear whether there will be a third debate.
Labor has switched prime ministers twice during the time it has been running the country.