Australia police arrest five over people-smuggling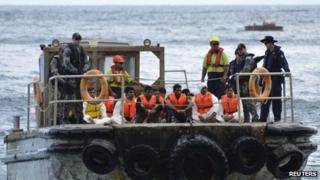 Australian police have arrested five men in connection with people-smuggling, after a 12-month probe.
The men were key members of syndicates involved in the planning or facilitation of up to 132 Australia-bound asylum boats, police said.
Three Afghan nationals, an Iranian and a Pakistani had been charged and were expected to appear in court, they said.
Australia has seen a sharp rise in the number of asylum boats arriving in recent months.
The boats generally depart from Indonesia, carrying mainly Iranian, Afghan, Sri Lankan and Iraqi asylum seekers.
They head for Christmas Island, the closest part of Australian territory to Indonesia. But the vessels are often old, poorly-maintained and over-crowded. Many have sunk in recent months, killing passengers.
Australian Federal Police Assistant Commissioner Steve Lancaster described those arrested as "major players within their syndicates".
"It will impact on those that are involved in those syndicates, no doubt, and [the arrests] will guarantee there will be further arrests made," he said.
Those charged faced penalties of up to 10 years imprisonment and a A$110,000 ($99,000, £63,000) fine, a police statement said.
Ahead of the general election on 7 September, both parties have promised tough measures on asylum.
Under a new Labor Party police, all asylum-seekers who arrive by boat will be sent to Papua New Guinea for assessment. If found to be refugees, they will be resettled in PNG, not Australia.
The opposition, meanwhile, wants to appoint a military commander to lead operations tackling people smugglers and asylum boats. It also wants to limit those already in Australia who are found to be refugees to temporary visas.