Are we there yet?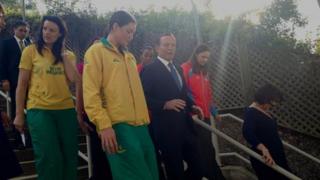 I've managed my first face-to-face encounter with Tony Abbott, the man who the opinion polls suggest is favourite to be Australia's next prime minister.
Like many high-ranking politicians, when you meet him up close, Mr Abbott is a strikingly healthy and well-groomed looking fellow with an air of self-confidence. The opposition leader is well known for taking care of himself.
I guess you don't get to run for the top job if you're a bit of a scruff and give off the impression of being riddled with doubt.
The photo opportunity of the day was netball. The snappers needed their wide-angle lenses, with the opposition leader dwarfed by members of the Australian national women's team, as well as the New South Wales Swifts, out at the Olympic Park in Sydney's Western suburbs.
To be honest, I felt lucky to even find him. For a novice to the Australian campaign season, I have been wrong-footed by the high levels of secrecy that surrounds the party leaders' movements.
Need-to-know basis
Trying to find out where Tony Abbott or Kevin Rudd are going to be at any one time is like pulling teeth. Over the years, I've covered the British, American, French, German, Polish and Israeli elections (the Palestinians could never quite get round to it while I was there).
But unlike in all those places, in Australia, candidates' press teams give out information on a strictly need-to-know basis, with the proviso that there is actually nothing that you "need" to know.
So having managed to track down Mr Abbott's press bus to a Sydney hotel, I boarded it soon after dawn, like all the other journalists, with destination unknown.
"Nobody knows where we're going. It's like this every day," said the Australian reporter sitting next to me, who's been following the campaign for the last few weeks.
"Most of the time, we don't even know which city we're going to."
Where to?
My journey was only by bus, but when the press bubble travels by plane, many journalists can apparently be seen studying the compasses on their smartphones to try and work out which direction, and hence to which city, they're heading.
"I didn't know which clothes to pack," another reporter told me. A look at the weather reveals Hobart in Tasmania could be 20 degrees cooler than the more tropical climate of Darwin in the north.
Apparently, even the air hostesses are sworn to secrecy and forbidden from revealing their destinations. I am told that when the press plane eventually lands, the announcement over the tannoy is vague: "You have now reached your destination."
Some reporters have turned to using flight-tracking websites to try and get a hint of where they might be ending up.
Why it's this way, I am not exactly sure.
"Security" was the reason given by one of Mr Abbott's team. And in truth, when Mr Abbott did eventually step out onto the netball court, it was much more relaxed and informal than similar events would have been at say a British or US election.
Because very few people really knew he was going to be there, security was at a minimum, with just a handful of earpiece-wearing, sharp-suited secret service agents loitering around looking unconcerned.
"Maybe see you next week?" I asked one of Mr Abbott's staff as I left.
"Maybe," she replied. "Not sure where we'll be."