Australia military probe 'over Afghan mutilation'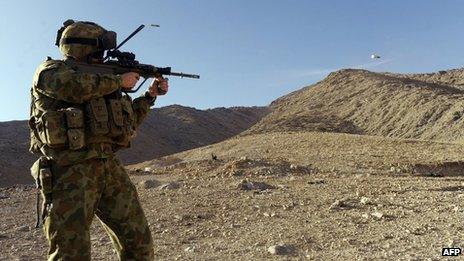 Australia's military is investigating an incident in which troops allegedly mutilated an insurgent in Afghanistan, a media report says.
The Australian Broadcasting Corporation (ABC) said special forces cut off the hands of an Afghan insurgent killed in Zabul province on 28 April.
The army said it was continuing an investigation into "an incident of potential misconduct".
It provided no further details about the exact nature of the incident.
The Australian Defence Force (ADF) issued a statement on Friday, saying the mission of Australia's Special Operations Task Force and Afghan National Security Forces targeted "an insurgent commander" operating in Uruzgan province.
It added that four insurgents were killed during the operation in Afghanistan's southern province.
"Following the mission, an incident of potential misconduct was raised through the ADF's internal command chain," the statement said.
Gen David Hurley, chief of the defence force, had already issued a statement on 8 May saying an investigation into the matter was being conducted.
"The ABC understands that the detail of the misconduct he [Gen Hurley] alluded to involves the removal of hands from the corpse of at least one Afghan insurgent," the broadcaster said on Friday.
It added that the hands were taken back to the Australian base in Tarin Kot, possibly for fingerprinting.
The ADF said it could not make further comments because an investigation was already under way.
"The ADF also takes all reasonable steps to ensure its operations do not breach Afghan customs or cause offence by inadvertently disrespecting religious beliefs or norms," it added.
Australian troops have been stationed in Tarin Kot since 2005.
Australia has an estimated 1,500 troops in Afghanistan. The majority are stationed in Uruzgan, with the remainder in Kandahar and Kabul provinces.
Related Internet Links
The BBC is not responsible for the content of external sites.