Australia election: Rudd appeal as Abbott defends Syria remarks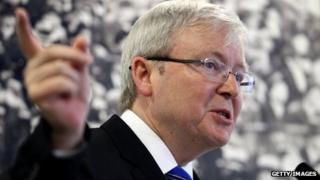 Australian Prime Minister Kevin Rudd appealed to voters to trust their instincts, days ahead of a general election in which he is trailing in the opinion polls.
The latest poll on Monday showed Labor eight points behind the Liberal-National coalition.
It also put opposition leader Tony Abbott ahead of Mr Rudd as preferred prime minister for the first time.
Mr Abbott on Monday moved to defend comments he made on the Syria conflict.
"It's not goodies versus baddies, it's baddies versus baddies and that's why it's very important that we don't make a very difficult situation worse," he said on Sunday.
Mr Rudd said the comments demonstrated that his rival was "not competent and not comfortable with national security and foreign policy".
"International relations is more complex than a 1950s John Wayne western," he said.
But on Monday Mr Abbott rejected that position, saying: "I've made the point that this is a civil war between two more or less equally unsavoury sides."
"I think we're seeing a little bit more hyperventilation from a desperately shrill government," he said.
Australia will assume the rotating presidency of the UN Security Council this month.
'Not done and dusted'
Labor has been in power since 2007, when Mr Rudd was elected prime minister. Ousted by his deputy, Julia Gillard, in 2010, Mr Rudd then successfully challenged her in June, as Labor faced dismal polling figures.
Under him, Labor initially saw its figures rebound significantly. But in recent weeks Tony Abbott has again widened the gap, leaving him poised for an election win.
The latest opinion poll, conducted by Newspoll for The Australian, gave Mr Abbott a 43-41 lead over Mr Rudd as preferred prime minister - the first time the opposition leader has been ahead.
The opposition also maintained its 54-46 lead over Labor on a two-party preferred basis.
Mr Rudd said he believed Labor could still win the 7 September poll.
"Anyone who thinks that this is done and dusted I don't think has a very clear grip on Australian political history," he told the Australian Broadcasting Corporation, in a round of early-morning interviews.
And he told another broadcaster, Channel Nine: "If you're uncertain about what Mr Abbott's putting out there then I think listen to your instincts and don't vote for him".
On Monday Mr Abbott was to deliver a major speech at the National Press Club. Ahead of it he played down his poll advantage, saying: "I do not believe the polls".
"You've got to respect Mr Rudd's campaigning abilities, even if you don't necessarily have to respect his governing abilities," he said.