Afghanistan bank attack kills five in Kandahar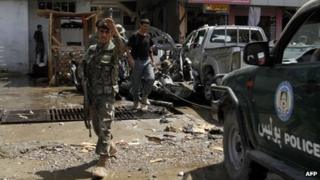 A suicide bomber has killed five people outside a bank in the southern Afghan city of Kandahar.
The attacker detonated his explosives early on Saturday morning as people were passing through security checks to enter the branch of the Kabul Bank and collect their salaries.
Police and civilians are reportedly among the dead and the some 20 injured.
No-one has admitted carrying out the attack - one of several after a relatively quiet month.
An attack on a police patrol in the western Afghan province of Farah on Thursday left 15 police dead.
The increased Taliban activity is being seen as an attempt by the insurgents to dent confidence in the Afghan army and police ahead of the planned withdrawal of US-led forces next year, the BBC's Karen Allen reports from Kabul.