Kaesong complex: Koreas start joint committee talks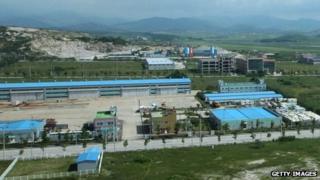 North and South Korea have kicked off the first meeting of a joint committee responsible for managing the Kaesong Industrial Complex.
The committee, which was set up on Thursday, will aim to agree a date for reopening the joint industrial park.
Pyongyang withdrew its workers from the complex in April amid rising political tensions on the Korean peninsula.
The zone provides the North with much-needed revenue, and is seen as a key barometer of North-South relations.
The Kaesong Industrial Complex, which lies just inside North Korea, is home to 123 South Korean factories which employ more than 50,000 North Korean workers.
The two sides agreed to re-open the zone on 14 August, following several meetings, and amid calls from South Korean business owners for a deal.
"We will do out best to make businessmen feel safe to run business and make efforts so that the complex can be transformed into a competitive place internationally," South Korean chief delegate Kim Ki-woong told reporters before departing for the meeting.
The new committee, which consists of both North and South Korean delegates, gives Seoul a greater say in the running of the complex.
In the past, North Korea's General Bureau for Central Guidance to the Development of the Special Zone ran the the complex, South Korean news agency Yonhap reported.
South Korea has demanded that Pyongyang guarantee that it will not unilaterally close the zone again.