Indonesia jails police general for corruption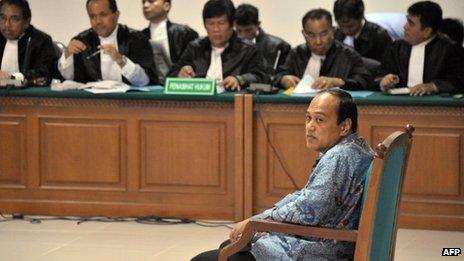 Indonesia's anti-corruption court has found a two-star general guilty of corruption and money laundering in a high-profile case.
Insp Gen Djoko Susilo was found guilty of taking $13m (£8.4m) in bribes from a firm that supplied driving simulators when he led the traffic division.
He was sentenced to 10 years in prison and fined 500m rupiah ($45,000, £29,000).
The verdict came 14 months after Djoko was named a suspect.
Prosecutors had originally asked for an 18-year prison term and a fine of 32bn rupiah. They also asked that Djoko be stripped of his right to vote and to stand for public office.
The investigation by Indonesia's Corruption Eradication Commission revealed the extent of Djoko's material wealth, including properties and luxury cars worth 100bn rupiah.
Prosecutors said Djoko owned more than 25 properties on Java Island and the resort island of Bali, bought under his name, and those of his three wives and other relatives.
He also admitted in court that he owned more than 200 kris - a traditional Indonesian dagger believed to hold magical spiritual power.
A witness told the court that Djoko bought 16 kris from him and paid for them with a luxurious house.
The case caused friction between the anti-corruption commission and the National Police, who also wanted to lead the investigation, says BBC Indonesia's Pinta Karana in Jakarta.
In October, Indonesian President Susilo Bambang Yudhoyono asked the police to hand over the case to the anti-corruption commission following a public protest.