Haroon Tariq: The boy who got 46 As in his exams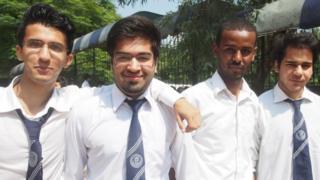 A teenager is being billed as Pakistan's brainiest student after passing 46 school exams with a grade of A or A* in the past three years, reports Charles Haviland in Islamabad.
As the boys and girls take their morning break at the exclusive Froebels International School, shouting, batting a cricket ball around or playing football, there's not much to distinguish Haroon Tariq from the crowd.
But the tall, bespectacled 18-year-old from Pakistan's Khyber Pakhtunkhwa province has set a standard his schoolmates would have difficulty matching.
He has passed 46 school examinations with a grade of A or A* in the past three years, having sat rather more than 50 with two different exam boards, Cambridge International Examinations and Edexcel.
All have been international papers at O-level, international GCSE and A-level. The O-level has been obsolete in Britain since the 1980s but is still set internationally and taken by millions of students in countries including Pakistan.
"I did my O-levels in one year - usually people do it in three years," Haroon tells the BBC, explaining how he got ahead of his peers. He sat the first exams in 2010 while still attending the Army Public School in Peshawar in his home province.
That year he did 10 subjects, including the compulsory ones.
"I had two years left in my O-levels [study period] so I thought I want to do something special, something different from others.
"I wanted to excel away from those other students... so I took many subjects."
Moving to Islamabad because of his father's army career, Haroon piled on the O-levels and international GCSEs, scoring mostly A or A starred grades although there were a few Bs and Cs in there as well.
This year he started A-levels and got six grade As.
While some of the subjects are done on both boards there is still a big range - from sciences, English, Urdu and Islam to his favourite, world history.
"20th century, world wars, the Cold War - it also dates back four or five centuries - quite interesting," says Haroon, who receives a scholarship while the school also funds his tuition.
He did some of the exams through private study at home and some through the British Council but is now working mainly through his current school.
Its principal, Shahmina Kamal, a British-Pakistani from Manchester, says they have given him a lot of personal tuition but denies this is at the expense of less driven pupils.
"I think every student gets their own deserts and if they want hope we are there to support them as well," she says.
"I've got other children as well that I have been helping personally as well as our teachers - they go out of their way [to help].
"Any student that needs help - our school goes out of their way for them."
Haroon's record is not absolutely flawless. He started both Spanish and French but found them too time-consuming and gave them up.
But has he not locked himself in an ivory tower and missed out on non-academic pursuits? No, he says quickly.
"I actually love football, you know. I love Manchester City - I support them. I've been following them four or five years, I love the English Premier League."
And on the pitch "I'm a centre forward and I can also play on wings".
He finds time for the school debating society, too.
Haroon says his parents put no pressure on him at all - and that studying like this was entirely his own idea. After more A-levels in a year's time he hopes to get to a British university to study aeronautical engineering.
Disappointingly for Haroon and his teachers, Guinness World Records does not record academic qualifications. They have a feeling that if it did, he might be a world record holder.