Pakistan PM Sharif rules out army deployment in Karachi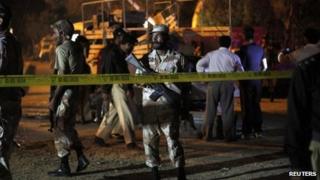 Pakistan's Prime Minister Nawaz Sharif has ruled out deploying the army to tackle spiralling violence in Karachi.
Mr Sharif was speaking after chairing a rare cabinet meeting in the country's biggest city to discuss the breakdown in law and order there.
He said the government was considering using the Pakistan Rangers paramilitary force against Karachi's criminals.
Thousands have died in recent years in attacks blamed on criminal gangs and militants linked to political parties.
Extortion, kidnappings for ransom, and drive-by shootings are on the rise in the commercial capital, which generates much of Pakistan's national revenue.
In violence on Wednesday, a senior Pakistan navy officer was killed and his Swedish wife wounded when gunmen opened fire on their vehicle near the National Stadium in Karachi.
The officer, identified as Captain Muhammad Nadeem, was shot in the neck and died later in hospital, police said. There have been a series of attacks on naval targets in the city in recent years.
Addressing a news conference later in the day, Interior Minister Chaudhry Nisar Ali said the paramilitary Rangers would be supported by police and both civilian and military intelligence agencies.
He said the government would revamp the police force to remove and arrest officers who were found to be involved in organised crime.
A committee of legal experts was also being formed to look into deficiencies in investigations and prosecutions to ensure criminals who were caught faced punishment, he added.
The BBC's Shahzeb Jillani in Karachi says most of the city's residents agree that the government needs to take action - but not everyone believes that Mr Sharif will be able to take on the city's heavily-armed and powerful militant groups.
It seems Mr Sharif wants to move slowly and cautiously, seeking a political consensus before any major steps are taken, our correspondent adds.
While some see this as a sign of political maturity, others believe the prime minister does not want to antagonise Karachi's powerful ethnic, religious and political parties, which have been accused of fuelling the crime and violence.