Pakistan's Asma Jahangir urges 'assassination plot' inquiry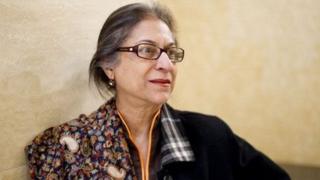 Prominent Pakistani human rights activist and lawyer Asma Jahangir has called for an inquiry into reports of a plot to assassinate her.
In a statement, Ms Jahangir demanded that the government "find the forces who wanted to silence her".
A report in the Washington Post alleged that in May 2012 US intelligence became aware of a plot to kill her by parts of Pakistan's security apparatus.
Pakistan has made no public comment on the allegations.
The revelations in the Washington Post were based on a top secret report from the Defense Intelligence Agency (DIA) and disclosed by US intelligence leaker Edward Snowden to the newspaper.
Last June Ms Jahangir held a press conference in which she spoke of a conspiracy to murder her and blamed elements of the security establishment.
In her latest statement, Ms Jahangir said that she already revealed details about the plot and that her struggle for democracy and the protection of human rights in Pakistan could not be silenced.
The lawyer has been a vehement critic of Pakistan's security establishment and its spy agency the Inter-Services Intelligence agency (ISI).
In its report, the DIA did not identify which security officers were plotting to kill her and added that it did not know if the ISI had even given approval for the plot, the Washington Post said.
It also reported that the DIA noted that such a plot would prompt a domestic and international backlash.