Pakistan 'to free Taliban's Mullah Abdul Ghani Baradar'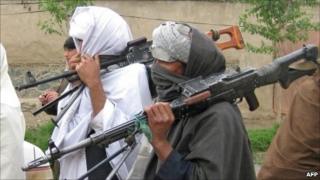 Pakistan is to release senior Afghan Taliban leader Mullah Abdul Ghani Baradar in a bid to help the Afghan peace process, reports say.
The timing of his release is not yet clear, but "should be within a month", a senior adviser to the Pakistani prime minister told Reuters.
Mullah Baradar was captured in the Pakistani city of Karachi in 2010.
It was seen as a significant coup for the American CIA and the Pakistani intelligence service.
"In principle, we have agreed to release him. The timing is being discussed. It should be very soon... I think within this month," Sartaj Aziz, Pakistani Prime Minister Nawaz Sharif's adviser on foreign affairs, told Reuters news agency.
In an interview with the BBC, Mr Aziz said that Mullah Baradar's release "was still being discussed with various government agencies".
Asked whether the senior Taliban leader would be handed over to Afghanistan or another country, he said it would be up to the prisoner to decide where he wanted to go.
Mullah Baradar is one of the four men who founded the Taliban movement in Afghanistan in 1994.
He went on to become a linchpin of the insurgency after the Taliban were toppled by the US-led invasion in 2001.
'Constructive role'
Correspondents say that Pakistan is under growing pressure to release senior Taliban figures - especially Mullah Baradar - to boost reconciliation efforts in Afghanistan before most Nato troops withdraw from the country by the end of 2014.
In his interview with Reuters, Mr Aziz said it was important to ensure that released Taliban prisoners had an opportunity to make contact with the Taliban leadership on the ground to persuade them to take part in peace negotiations.
"That they can't do unless they are released... I think he [President Karzai] accepted this point that they should play a constructive role in the peace process."
On Saturday Pakistan announced that it was releasing seven Taliban prisoners in a bid to help the Afghan peace process.
At least one former senior militant was among the men freed, a foreign ministry statement said.
Mansoor Dadullah served as the Taliban's military commander in four of the most violent provinces of southern Afghanistan until he was captured in February 2008 after a shootout with security forces.
Some 26 Taliban detainees have been freed during the past year, the foreign ministry statement said.
President Karzai urged Pakistan at the end of last month "to facilitate peace talks" between his country and the Taliban during a visit to Islamabad.
He said the Pakistani government could provide opportunities for talks between the Afghan High Peace Council and the militants.
Pakistan Prime Minister Nawaz Sharif in response said that he wanted to help regional efforts to stabilise Afghanistan.