PNG attack kills porters, injures foreign trekkers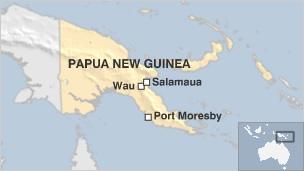 Trekkers from Australia and New Zealand have been caught up in a deadly attack in Papua New Guinea which killed two local guides.
The Australians and one New Zealander were hiking in PNG's Black Cat Track when they were attacked by robbers.
Several members of the group, including a number of the group's local porters, were injured in Tuesday's attack.
Those hurt are receiving medical care in Wau.
The trekkers will be flown to Port Moresby, the capital, later on Wednesday.
"The attack resulted in the deaths of two PNG nationals who were porters for the group," Australia's department of foreign affairs said. "Our sympathies are with the family and friends of those who were killed."
"Other members of the group, including eight Australians, one New Zealander, and a number of PNG nationals, sustained injuries during the attack, however none of the injuries are life-threatening."
Reports suggest that the two guides were hacked to death, and the attackers may have used machetes, spears and guns, Australian broadcaster ABC reported.
The Black Cat Track in northern PNG joins the towns of Wau and Salamaua. It was one of the sites of fighting between Australian and Japanese troops in WWII and is known as one of the toughest hiking trails in the country.
Australia has updated its travel advice, recommending that visitors avoid the Black Cat Track until the incident has been investigated.
Concerns have been raised over high levels of crime and violence in the country, including a number of high-profile attacks in recent months.