Japan says 'no dispute' exists on islands anniversary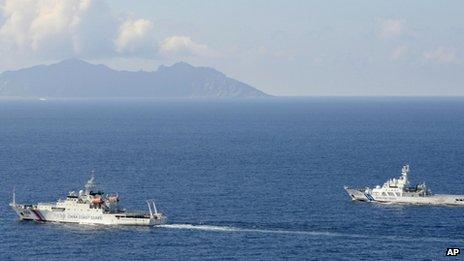 Japan tightened security around disputed islands and restated its ownership of the chain, a year after its nationalisation of the islands triggered a bitter row with China.
Tensions remain high with Beijing, which sent several coastguard boats to patrol around the islands on Tuesday.
Japan bought the islands, known as Senkaku in Japan and Diaoyu in China, from their private owner a year ago.
China has described the purchase as invalid.
It says it has conducted 59 patrols near the islands since then - its vessels sailing in and out of what Japan says are its territorial waters.
On Wednesday, Japanese Chief Cabinet Secretary Yoshihide Suga reiterated Japan's claim to the islands.
"It has been evident [the islands] are Japan's territory. We will maintain absolutely the same position that no dispute [officially] exists," he said.
Defence Minister Itsunori Onodera said surveillance had been increased in the islands' area but gave no details, the Associated Press news agency reported.
Coastguard official Yuma Miyako, meanwhile, told AFP that the agency was on "high alert" for the anniversary.
"We are preventing Chinese official ships from entering our territorial waters, with our ships sailing very close to the Chinese ships," the official said.
China sent several coastguard boats to patrol around the islands on Tuesday, prompting Japan to summon Beijing's ambassador in Tokyo in protest.
Mr Suga also said on Tuesday that Tokyo was considering stationing civil servants on the islands as an option, prompting an angry response from Beijing.
"China's resolve to defend the sovereignty of the Diaoyu islands is firm," Chinese foreign ministry spokesman Hong Lei said.
"The Japanese side must be prepared to bear the consequences of this provocation."
Chinese press also marked the anniversary with opinion pieces lauding China's patrols.
"On the 'one year anniversary' since Japan staged its 'purchase' of the Diaoyu islands, implementing it's so-called 'nationalisation' farce, the Chinese coastguard's patrols have shown the government's determination and resolute attitude to protect our maritime rights," People's Daily said.
"China needs to grasp the opportunity to convince more people worldwide of the dangerous motives of the Japanese right," an opinion piece published by Global Times said.
On Monday, a plane thought to be a Chinese drone was spotted in international airspace near the islands, prompting concerns from Japan.
The chain of islands lies east of the Chinese mainland and southwest of Japan's Okinawa island.
They are close to strategically important shipping lanes and offer rich fishing grounds.