Taiwan Speaker Wang Jin-pyng expelled by governing party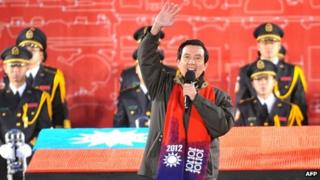 The governing party in Taiwan has expelled the Speaker of parliament, Wang Jin-pyng, over allegations of influence peddling.
The move signals a rift at the top of the Kuomintang party that could have implications for relations with China.
President Ma Ying-jeow accused his rival of damaging Taiwanese democracy.
Mr Wang is alleged to have used undue influence over prosecutors in a case involving an opposition politician.
Analysts say a split at the top of the KMT could undermine efforts to implement closer economic ties with China.
'Shameful day'
President Ma was re-elected last year in a closely fought election. He has since suffered a sharp fall in his popularity and the loss of three ministers in a series of scandals.
He is currently seeking ratification of a bilateral services agreement with China that critics say will give Beijing too much influence over the island.
Wang Jin-pyng was a powerful political figure in the governing party, but was seen by some as too close to opposition politicians.
Investigators accused him of using influence over prosecutors to block an appeal against the acquittal of an opposition politician, Ker Chien-ming, who had been charged in a breach of trust case.
President Ma said it was the most serious infringement of judicial independence and the most shameful day in the development of Taiwanese democracy.
That intervention sparked a furious outcry with some accusing President Ma of interfering in the judicial process himself and of risking the unity of the party by attacking a political rival.