Philippine stand-off: Clashes continue as new attack reported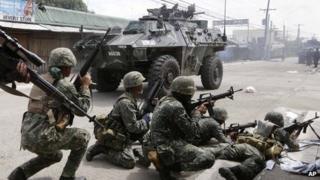 Philippine troops are continuing to battle Muslim rebels holed up in a southern city, amid reports of separate fighting in a nearby area.
Troops have been fighting Moro National Liberation Front (MNLF) rebels who entered parts of Zamboanga city in Mindanao on Monday.
Local reports say a town in nearby Basilan province was also attacked by unidentified rebels on Thursday.
Details of that attack and any link to the MNLF were not immediately clear.
In Zamboanga, more than 100 members of the MNLF have moved into a number of villages, where they are reported to be using an unknown number of civilians as human shields.
There are ongoing reports of gun battles in rebel-held areas. "We are trying to ensure that no rebel will get out," armed forces spokesman Lt-Col Ramon Zagala told AFP news agency.
On Wednesday, a total of nine people were reported dead. Some local reports on Thursday citing local officials put the toll at 12.
At least 13,000 residents of the areas affected by the fighting have sought temporary shelter at a sports stadium, churches and schools in Zamboanga, according to reports.
On Thursday, local officials said that a village near the city centre of Lamitan, in the neighbouring province of Basilan, was also under attack by suspected Muslim rebels.
It was not immediately apparent who the rebels were. Roderick Furigay, Lamitan city vice-mayor, told local media he received reports that the MNLF was involved. Other local media reports pointed to the Abu Sayyaf, a radical Islamist group.
Basilan, an island province in the Autonomous Region of Muslim Mindanao, is a short boat ride away from Zamboanga. It is a known shelter of a number of Islamic militant groups.
Nur Misuari founded the MNLF in 1971, with the goal of fighting the Philippine state for an independent Islamic nation. The MNLF then signed a peace agreement with the government in 1996.
However, Nur Misuari has complained that his faction has been marginalised in a peace agreement currently being negotiated between the government and another insurgent group, the Moro Islamic Liberation Front (MILF). Last month, he declared an independent Muslim state in the southern Philippines.