Nepal strike shuts down capital Kathmandu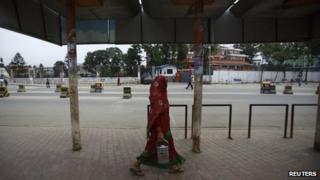 Daily life has ground to a halt in Nepal's capital, Kathmandu, in a one-day strike called by opposition parties to protest against government plans for elections in November.
Schools and markets were closed and many vehicles stayed off the streets.
The opposition alliance wants a new interim government with representation from all political parties to oversee the delayed elections.
In March a government led by a senior judge was appointed to conduct polls.
The administration of Khilraj Regmi, the chief judge of Nepal's Supreme Court, was charged with holding polls, currently set for 19 November.
Nepal's last parliament was elected in 2008. The Constituent Assembly's term of office expired in May 2012 before it had succeeded in its mission to draft a new constitution.