Netherlands apology for Indonesia 1940s killings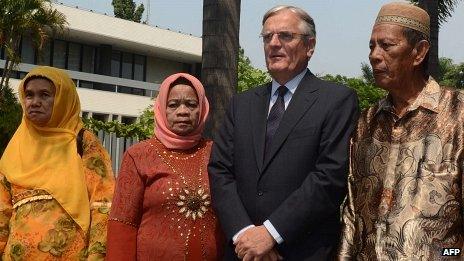 The Netherlands has made a formal public apology for thousands of summary executions carried out by Dutch troops in its former colony of Indonesia.
Dutch ambassador to Indonesia Tjeerd de Zwaan apologised for the "excesses committed by Dutch forces" between 1945 and Indonesia's independence in 1949.
A UN report at the time condemned the killings as deliberate and ruthless.
The Hague has previously apologised and paid compensation in certain cases, but this was the first general apology.
The ceremony took place at the Dutch embassy in Jakarta, with several relatives of the victims and embassy workers in attendance.
None of the victims' widows was present as they live in Sulawesi and were too frail or ill to travel to the capital, Dutch public broadcaster NOS reported. The Indonesian government was not represented.
"The Dutch government is aware that it bears a special responsibility in respect of Indonesian widows of victims of summary executions," Mr Zwaan said.
"Sometimes it is very important to be able to look back in order to be able to look one another straight in the eyes and be able to move forward together - and that of course is what this public apology and ceremony is all about," he said.
Clashes between the Dutch army and Indonesians began in 1945.
South Sulawesi was the scene of one of the worst Dutch atrocities. In January 1947, more than 200 Indonesian men were executed on a field in front of a local government office in what was then known as Celebes.
That same year, at least 150 people were killed by Dutch forces in Balongsari village, formerly known as Rawagede.
Two high-profile court cases in the Netherlands have resulted in 20,000 euros ($26,600; £16,800) being awarded to the widows of some of the victims.
No Dutch soldiers have faced prosecution over the deaths.
Most of current-day Indonesia was ruled by the Netherlands from the 19th Century until World War II, when the Japanese army forced out the Dutch.
When the Dutch attempted to reassert control after the defeat of the Japanese, they met fierce resistance.
The Netherlands finally recognised Indonesia's independence in 1949.