Precious moments of unity touch Afghans after football triumph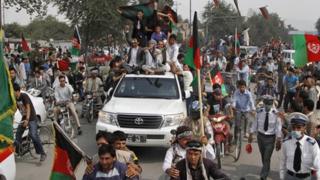 The president followed every move, major streets across the country were empty, and Afghans held their breath.
Then there was a massive explosion that shook the nation.
But, this time, it wasn't the latest bad news in a terrible decades-long war.
This was an eruption of national pride and joy as Afghanistan won its first international football trophy, the South Asian Football Federation Championship.
"This is the first time in the history of Afghanistan we are celebrating such a nice day," one young Afghan told my colleague, Bilal Sarwary, as delirious crowds thronged the streets of Kabul in an unprecedented moment of popular bliss.
'Priceless gift'
The footballers arrived home to a hero's welcome after their stunning 2-0 win over Asian giant India.
President Hamid Karzai, senior cabinet ministers, and members of Parliament flooded the airport's VIP lounge to personally thank every single member of a team which had given their country a priceless gift.
Suddenly a people, preoccupied by their future and held back by a troubled past, felt they were part of a rare victory.
"We are so proud to be Afghan," declared a beaming MP, Shukria Barakzai. "This is a different story from a war-torn country."
And this landmark day just happened to take place on the anniversary of the 11 September 2001 attacks on the United States that ultimately led to the end of Taliban rule.
Much has been said about the disappointment, on both sides, after more than a decade of international engagement in Afghanistan.
But this was a moment that highlighted the achievements.
Afghans could watch the game live on Afghan channels run by the country's Moby group. They could celebrate with friends and family far and wide because of the extensive mobile phone coverage across the country.
And a new engaged generation of sports fans and students took to the streets and to social media - both unthinkable years ago.
Images of happy footballers, ecstatic fans, and billowing Afghan flags was a powerful testament to the power of "the beautiful game," to make a country feel beautiful.
It's hard to say if football fever reached every far corner of a country where access to electricity is still one of the lowest in the world. But in a nation where about 68% of the population is under the age of 25, it seemed infectious.
Outpouring of energy
"Football has managed to do what no one has really managed since 1979 - to free the Afghan nation to be free to dream, free to hope and free to celebrate," Saad Mohseni, chairman of Afghanistan's Moby group, told me in a euphoric sweep of history that went all the way back to the Soviet invasion of 1979.
This football triumph was also the result of months of painstaking effort by his group to establish and promote the first Afghan Premier League. It gave the national squad 10 of its 18 players, and gave the country a growing passion for a new national sport.
A widely-watched reality TV programme allowed Afghans themselves to chose players for the super league's eight clubs, regardless of their ethnic origins or political affiliations.
All too aware that precious moments of unity can be all too fleeting, many young Afghans were quick to insist this outpouring of energy had to be marshalled for even greater achievements.
"Now that I am done partying, here is the other message," wrote youth activist Maiwand Rahyab on his Facebook page. "Afghanistan will NOT go back to the past. It is a different country."
"We could be NO 1 for good causes too," insisted Horia Mosadeq, a campaigner for improvements in human rights, including the advancement of Afghan women.
This sporting landmark comes during a deeply sensitive countdown to the withdrawal of most Nato troops from Afghanistan, and the election of a new president next April.
"I hope to experience last night again when they name the new president. Asking for too much, I guess," remarked Maiwand Rahyab, one of the founders of a youth movement trying to mobilise Afghans for political change.
Media coverage made mention of two 9/11s: one which highlighted a dark past, and one that promised a brighter future.
Afghans know better than most that nations, like football teams, need to pull together to win. If they don't, everyone loses.