Two killed in Bangladesh clashes amid strike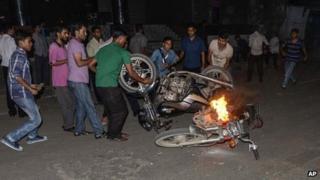 Two people have been killed in clashes between police and protesters, on the second day of a strike over the death sentence handed to an Islamist leader.
Police said clashes broke out during a protest by supporters of the Jamaat-e-Islami party in Mujibnagar town, 143 miles (230km) from the capital Dhaka.
Abdul Kader Mullah is be hanged for crimes against humanity during the 1971 war of independence with Pakistan.
Jamaat, which called the strike, said his trial was politically motivated.
In Mujibnagar in south-western Bangladesh, a man died of a bullet wound after police opened fire during a protest by more than 1,000 Jamaat-e-Islami supporters.
In the region of Sirajganj, a man died after protesters threw stones at the taxi he was travelling in.
Sporadic clashes have been reported in a few other parts of Bangladesh as activists tried to enforce the two-day nationwide strike, which began on Wednesday.
Police said an auto-rickshaw (three-wheeler) driver was killed on Wednesday when he was hit by a stone thrown by protesters in the southern Noakhali region.
Tougher sentence
Mullah was originally sentenced to life imprisonment for war crimes by a special tribunal in February and that sentence prompted a series of angry protests from critics who said it was too lenient.
He appealed to Bangladesh's Supreme Court against his life sentence, while the state appealed for a tougher sentence.
On Tuesday, the court rejected his appeal and increased the life term to the death penalty.
Human rights groups have said the tribunal falls short of international standards. Human Rights Watch also criticised the increased sentence, arguing it violated fair trial procedures.
The increased sentence was met with anger by members of the Jamaat-e-Islami party who called the two-day strike in protest.
Schools and businesses were shut on Wednesday. Motorways were empty and bus services were also suspended, reports said.