Cambodia opposition boycott opening of parliament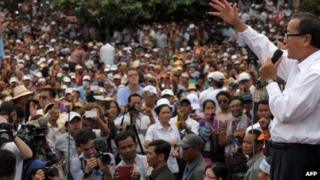 Cambodia's opposition have boycotted the opening of parliament, following political deadlock after disputed elections in July.
Fifty-five MPs from the Cambodia National Rescue Party (CNRP) were absent in protest at election results.
The CNRP have accused the ruling Cambodian People's Party (CPP), headed by PM Hun Sen who has been in power for 28 years, of widespread election fraud.
Official results show the CPP won 68 seats - a greatly reduced majority.
The opposition, led by Sam Rainsy, say the vote was rigged and want an independent inquiry - a demand that the government has rejected so far despite talks to resolve the matter.
Opposition lawmakers held a ceremony at the ancient temple complex of Angkor Wat over the weekend, swearing an oath not to enter parliament until there was an independent inquiry was held.
Yim Sovann, an MP for CNRP, told Reuters news agency on Monday that the parliament meeting was "a violation of the constitution".
"Our goal still stands. We are boycotting today's meeting because the truth has not been uncovered and there has been no breakthrough," he said.
'National solidarity'
However, there is nothing in the Cambodian constitution that prevents the Prime Minister from governing with a half filled parliament, the BBC's South East Asia correspondent Jonathan Head reports.
Much will depend now on what the opposition does next - it has promised more street protests - and how Hun Sen, who has been accused of using violence against his rivals in the past, responds, our correspondent adds.
In his opening speech to parliament, Cambodia's King Norodom Sihamoni said the "nation must stand united and show the highest national solidarity on the basis of the implementation of the principles of democracy and rule of law".
It is expected that Hun Sen, 61, will be sworn in for another five-year term on Tuesday.
Tens of thousands of people joined public protests earlier this month over the election results. At least one person was reported dead after clashes with security forces.
With state institutions - including the election commission - under the thumb of Hun Sen, protests are the only way opposition supporters can challenge the result, correspondents say.