Nato troops killed in Afghanistan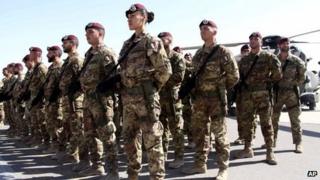 A man wearing a uniform of the Afghan security forces has killed three Nato troops in the east of the country, the coalition says.
No group has said it carried out the killing, but similar "insider" attacks have been used the Taliban as a way of getting close to foreign targets.
More than 100 Nato soldiers have been killed in such attacks since 2007.
A rise in insider attacks last year eroded trust between Nato troops and their Afghan allies.
It also raised questions about what will happen when international forces pull out of the country.
About 87,000 US-led forces are in the country at the moment, working with 350,000 Afghan forces.