Maldives Supreme Court postpones presidential run-off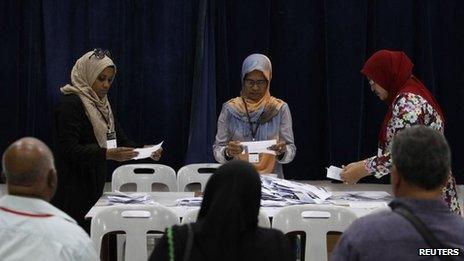 The Maldives Supreme Court has postponed the second round of the country's presidential election, due to have taken place on Saturday.
The court says a new run-off date will be set once it has ruled on the case.
Qasim Ibrahim, who came in third in the first round of voting, asked the court last week to annul the results, alleging electoral fraud.
Mohammed Nasheed, who was forced from office in an alleged coup last year, won 45% of the vote in the first round.
Mr Nasheed, who won the first free election in the Maldives in 2008, needed more than 50% to avoid a run-off against his nearest rival, Abdulla Yameen, who got 25% of the vote.
Mr Yameen is the half-brother of the Maldives' former President Maumoon Abdul Gayoom, who led the country for 30 years.
"We order the Elections Commission and other relevant state institutions to delay the second round of the presidential election scheduled for 28 September 2013 until the Supreme Court issues a verdict in this case," the court said.
Members of Mr Nasheed's Maldivian Democratic Party protested against the court's decision, saying that the election should be held as scheduled on Saturday.
Hamid Abdul Ghafoor, spokesman for the party, told Reuters news agency that the decision was "unconstitutional" and that they have appealed against the decision.
Local and international poll monitors found the elections to be clean and fair.
The postponement means a breach of the constitution, as there will be a gap of more than three weeks between the two rounds, says the BBC's Charles Haviland.
Mr Nasheed was ousted as president 19 months ago in an alleged coup, when army and police personnel joined opposition-led protests over the arrest of a senior judge.
The judge, Abdulla Mohamed, was detained in January 2012 after ordering the release of an opposition politician.
Mr Nasheed said he was stepping down to prevent "bloodshed", but later said he had been forced to resign at gunpoint by police and army officers.
He was replaced as head of state by his former vice president, Mohamed Waheed Hassan Manik, who ran in the elections but polled only 5% of the vote.