Japan ex-rail chiefs cleared of fatal 2005 crash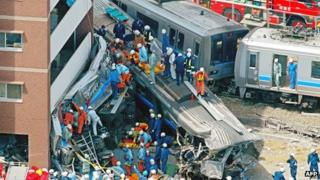 Three former chiefs of West Japan Railway have been found not guilty over a 2005 train crash that killed 107 people in the city of Amagasaki.
The Kobe District Court cleared Masataka Ide, Shojiro Nanya and Takeshi Kakiuchi of professional negligence.
The accident, which also left 550 people injured, was Japan's worst rail disaster since 1963.
It happened when a speeding commuter train jumped the tracks and smashed into an apartment building.
Mr Ide, Mr Nanya and Mr Kakiuchi had all previously served as president of the railway company, which is known as JR West.
Prosecutors had sought jail terms for the men, arguing that they had contributed to the accident by neglecting their duties.
Prosecutors also argued that the men should have taken greater safety precautions, such as installing devices that could prevent trains from going too fast, AFP news agency reported.
However, the court ruled that the three men did not have adequate opportunities to recognise the risks and were not legally obliged to install such devices when the crash occurred, AFP reported.
In January 2012, a court cleared Masao Yamazaki, another former JR West president, of negligence in connection with the crash.
Mr Yamazaki was in charge of safety for the West Japan Railway company in 1996 when it rebuilt railway tracks to sharpen the bend where the accident occurred.