Many drown as Indonesia asylum boat sinks near Cianjur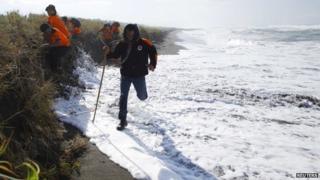 At least 21 people drowned when a boat carrying dozens of migrants seeking asylum in Australia sank off the coast of Java, Indonesian officials say.
Reports say the boat carried people from Lebanon, Jordan and Yemen. Rescue officials said 50 survivors had been taken ashore in the Cianjur district.
Australian Prime Minister Tony Abbott has promised to intercept migrant boats at their point of embarkation.
Mr Abbott is expected to discuss the issue when he visits Jakarta on Monday.
Officials say the search for survivors is continuing. It is not known how many people were aboard the boat when the vessel sank.
Bodies were found floating in an estuary on Friday morning, a local police official, Warsono, told the AFP news agency. He said the boat had broken into several pieces.
Four vessels were involved in the search, which was called off at nightfall and would resume on Saturday, he added.
Hundreds of migrants have died trying to reach Australian shores in recent years; many of them head for Christmas Island, a remote Australian territory in the Indian Ocean.
Mr Abbott has ordered the military to turn back migrant boats en route to Australia, and where possible prevent them from embarking.
Indonesia has said the plan risks violating its sovereignty.