Australia tycoon Gina Rinehart moves to end family feud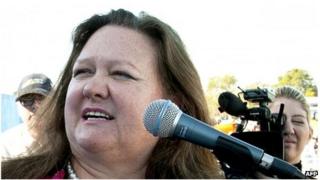 Australia's richest person has said she wants to give up control of a billion-dollar family trust to end a long-running feud with her children.
Gina Rinehart's lawyers told a Sydney court the move was meant to effectively end a two-year dispute, reports say.
At least two of her four children have continued a lawsuit to have her removed as head of the trust.
The trust, which controls part of an iron ore firm, was set up by Ms Rinehart's late father, Lang Hancock.
Her three oldest children initially filed the lawsuit against their mother in 2011.
They alleged that she acted "deceitfully" and with "gross dishonesty" in how she managed the trust.
John Hancock and Bianca Rinehart want their mother replaced as trustee. Their sister, Hope Rinehart Welker, launched the suit with them but later dropped out.
A fourth child, Ginia, has sided with their mother, saying that the case filed by her siblings was "motivated entirely by greed".
Ms Rinehart has denied her children's allegations. The case was scheduled to be heard in court in Sydney this month.
She now wants to enter mediation to find a replacement for her as head of trust, but a lawyer for her two children has questioned whether she should have a say in the new trustee, local media report.
Forbes magazine estimates that Ms Rinehart, whose family fortune is derived from mining, has an estimated net worth of $17bn (£10bn).