China's Xi Jinping addresses Indonesia parliament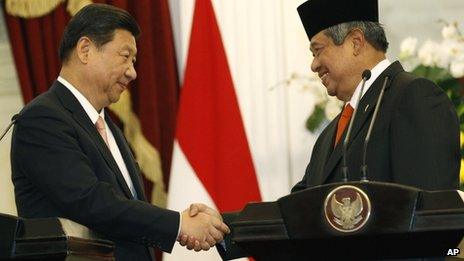 Chinese President Xi Jinping has given a speech to Indonesia's parliament - the first foreign leader to do so at the assembly.
Mr Xi is on his first trip to South East Asia since taking office.
He met Indonesian leader Susilo Bambang Yudhoyono on Wednesday, where they agreed to co-operate on trade, investment and infrastructure.
China is Indonesia's second-largest trading partner. Bilateral trade reached $66bn (£41bn) last year.
In his speech, Mr Xi said China and the Association of South-east Asian Nations (Asean) should try to resolve territorial disputes "in a peaceful manner so as to safeguard regional stability and peace".
China has competing territorial claims against four Asean member states, and Indonesia has played a leading role in drafting a proposed code of conduct for handling territorial disputes.
The two countries signed a $16bn currency swap agreement, which would help support Indonesia's falling rupiah.
Trade and investment deals worth $32 billion were also expected to be signed, AFP news agency reported, citing Indonesia's industry minister.
"As a strategic comprehensive partner, we have agreed to enhance our co-operation and partnership in all aspects, including the bilateral relationship and worldwide co-operation," Mr Yudhoyono told reporters on Wednesday, following his meeting with Mr Xi.
"We agreed to enhance trade and investment, [as] the trade value of both countries continues to grow, now reaching $51bn," Mr Yudhoyono added.
Mr Xi said: "To support the process of interconnection and integration of the economic development in the region, China has proposed to build the Asia infrastructure investment bank and provide financial support to infrastructure development in developing countries in the region."
Mr Xi will head to Malaysia next, before returning to Indonesia for the Asia-Pacific Economic Co-operation (Apec) summit in Bali.